Hello,

tl;dr: I am going to publish a terminal emulator widget for U++, in the following month (April).

From the user POV, it is a very simple Ctrl that can be embedded in any U++ applications via traditional U++ way: (E.g. Add(terminal.SizePos())
And it has a very "thin" public api.
Also its page and parser components are completely decoupled, and documented, and can be used seperately in any project (Read: You can write your own terminal emulator that suits your need with ease).

Before I publish it, I'd like to know what features you would like to see in it.

Currently it is more capable than Win10's new ANSI console.


At the moment it supports:


- VT52/ANSI/1xxx/2xx and -partially- 4xx/5xx emulation and Xterm extension.
- Both 7-Bit and 8-Bit modes.
- UTF8
- OCS and DCS
- ANSI colors
- Alternate screen buffer. 
- Resize



Planned:



- Copy-paste support
- Scrollback buffer
- Mouse support
- And various optimizations.




I will also publish two reference examples with it: a simple terminal emulator constructed with Terminal widget, and a remote terminal to demonstrate SSH integration.

A screenshot is much more meaningful than words.
(On a humble test setup (Linux 5.0/Gnone/relatively old test AMD machine. Top row: Nano editor, AnsiArt, Vttest. Bottom row: Emacs, Top, RadeonTop).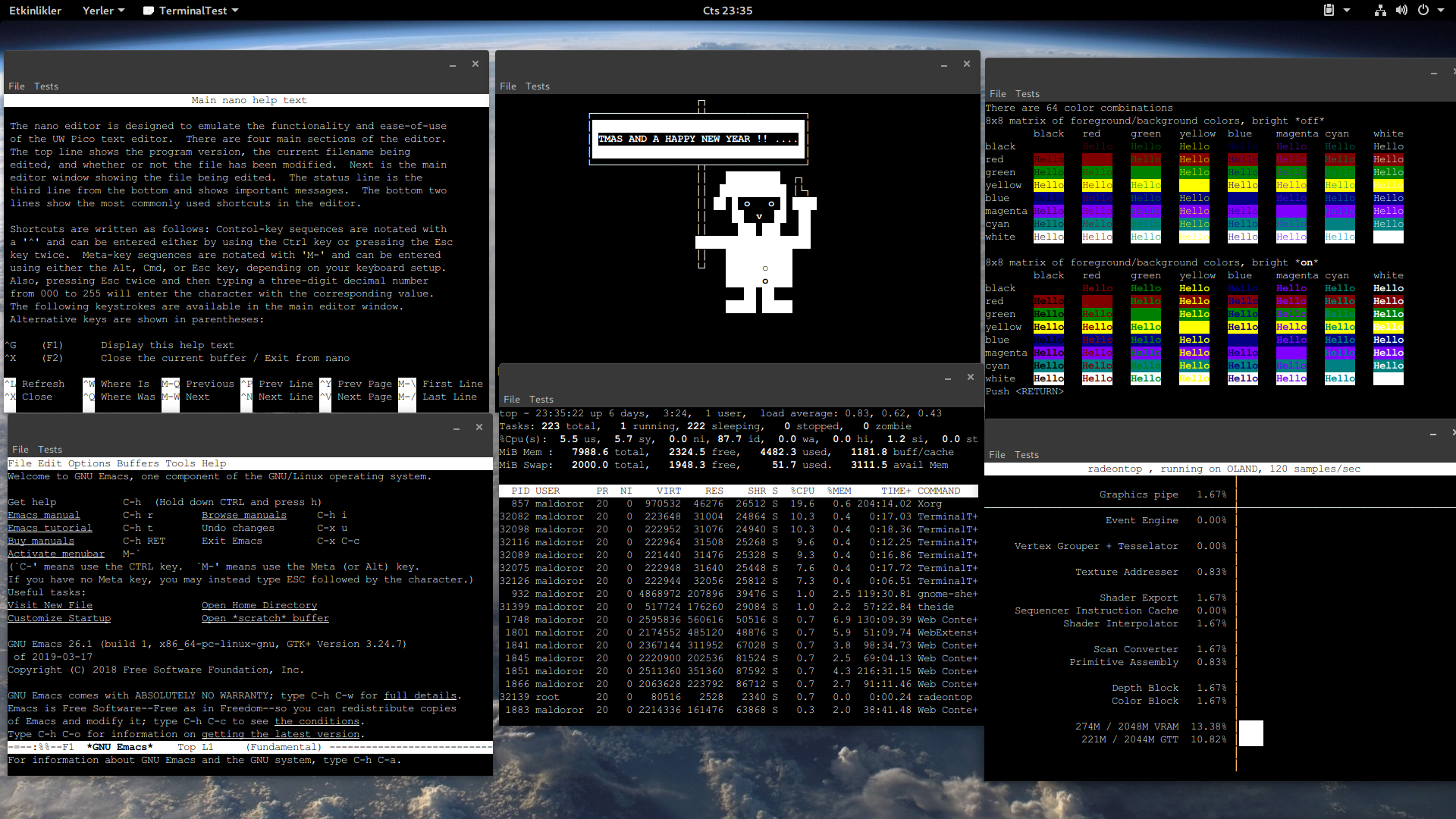 Best regards.
Oblivion
[Updated on: Sat, 23 March 2019 22:35]